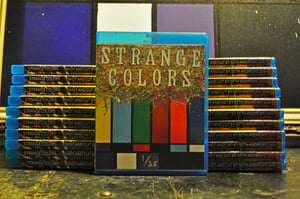 $

9.99 - On Sale
FREE SHIPPING AND FREE DVD COPY WITH PURCHASE
THESE ITEMS ARE LIMITED EDITION HAND LABLED 1-25
NOT MANY COPIES LEFT!!!
**FREE SHIPPING**
Strange Colors is a High Definition film by Indianapolis native Seth Andrews that showcases the underground and often forgotten sub-culture of Aggressive Inline Skating in Indiana. Featuring stunning visuals and a diverse soundtrack from bands like Jookabox and Stationary Odyssey, Strange Colors will take you on a visual and aural journey.
Full sections on Jeremy Adamowicz, Owen Nevins, and Alex Braunagel. Also featuring Jake Wilkes, Josh Mayo, Tanner Tyree, Aut Phantavong, Jason Bord, Christian Macon, Eric Foust, Garret Mitschellen, and many more!
Tons of Bonus Content including the official Director's Commentary with guests Alex Braunagel and Owen Nevins for their sections, behind the scenes of the making of the coverart, a 13 minute montage that will kill you, Josh Mayo bonus mini-profile, 8 minute falls bonus, The Teaser/Trailer, A Night at Ollies, and of course the b-roll.